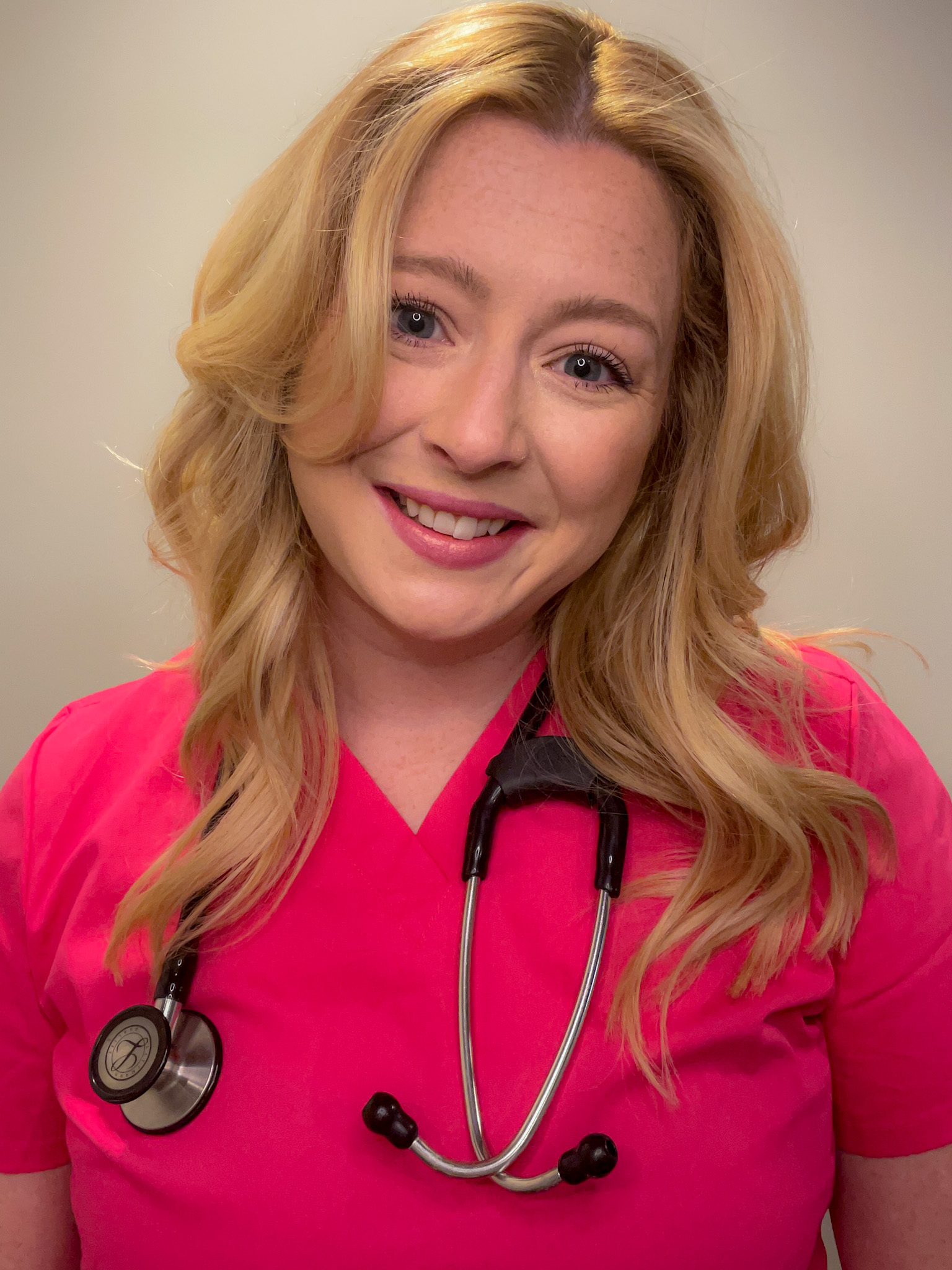 Hi! I'm Lindsey and I am a labor and delivery nurse and mom to three. After teaching childbirth classes for the hospital I work at, I saw with my own eyes how this education changed the birth experience for so many. They felt comfortable and relaxed, knew what to expect, and were prepared for whatever came their way. Those "game-time" decisions were easier since they already had a foundation of knowledge to build from.
I started questioning why more people don't take birth classes. I learned that accessibility, availability and cost were three big factors. It quickly became a goal of mine to create a course that was easy to do at your convenience, with easy to digest information, and was affordable.
I want you to finish my course feeling confident and ready to take on labor. This course is meant for you to take with whoever will be by your side during labor. Together you will learn, what to expect during labor, birth and postpartum comfort techniques, whether you want a medicated or unmedicated birth, how to advocate for yourself and your baby, different options that you have for a vaginal birth, cesarean birth, and labor inductions.
Since a goal of mine is to make this course affordable and accessible, I offer both a one-time payment and a payment plan. You can access the course via an app as well. If cost is an issue for you, please send me an email: [email protected] I would love to work something out with you so that you can benefit from childbirth education, too!


Give birth with confidence.
It's normal to feel overwhelmed and scared about the birth process. Especially if you've never done it before!
This course is designed to be taken by every kind of person or family. Whether you are a traditional two parent family, a single parent, a gestational carrier or surrogate, are a member of the LGBTQIA+ community, or are preparing to support someone in labor, you'll find the education you want in a manner that includes you.
What You'll Get With This Course
Lifetime access to the BirthSmarts Childbirth Course - meaning you can take it with each pregnancy and review it as many times as you want!
Curriculum includes information on labor, comfort techniques, labor positions, pushing positions, the process of childbirth, and what to expect in the first few weeks postpartum. You will finish the course with a strong foundation of knowledge, ready to take on whatever comes your way!
Learn how to advocate for yourself throughout pregnancy, labor, and postpartum! The tools you will learn will help you any time you need medical attention
Support for your partners - this course is designed to give your support people the information they need to help you throughout your birth and postpartum period
Access to the BirthSmarts Village Facebook Group - connect with other BirthSmarts families in a safe space!
Testimonials
"I highly recommend taking Lindsey's course. Lindsey made each lesson extremely personable and included pictures, videos and even quizzes to take which made the course more interactive. My partner even read a few lessons over my shoulder and he was hooked, he feels more prepared as a support person as well. I am so happy I can access this information whenever I need it, I can login from my hospital bed and have my questions or concerns addressed while I am in labor! Lindsey included PDFs that you can download or print. I will be printing them and adding to my pregnancy folder for easy access (especially the packing list!!) I am ready for the journey of labor, delivery and motherhood thanks to Lindsey!"
-Emma, due November 2022
Other Options
Showcase other available courses, bundles, and coaching products you're selling with the Featured Products block to provide alternatives to visitors who may not be interested in this specific product.

Frequently Asked Questions
What will this course teach me?
Many hospitals are no longer offering their childbirth preparation courses. These courses help prepare you for what your body will go through during labor, and help give you a foundation of knowledge about labor before it begins.
This course goes into thorough detail about the following things:
The labor process: the stages and phases of labor and what you can expect your body to feel like and do through each phase of labor
Comfort techniques - whether you plan for an unmedicated birth, birth with medications or an epidural, a combination of the above, or are totally unsure. We talk about everything with research-backed information from using aromatherapy oils and massage to epidural analgesia.
Positions to try during labor and pushing. Whether you have an epidural or not!
Tips for support people. A prepared support team is a valuable asset to your labor team!
Information on cesarean birth. What you can expect from a scheduled or emergency cesarean delivery.
Tips for coping though the toughest parts of labor
Downloadable handouts to bring with you on the big day so you won't just forget everything you've learned!
Lessons on how to advocate for yourself and your baby.
If I am planning to give birth at home or in a birth center, should I still take this course?
This course is definitely designed with the hospital in mind - after all, I am a labor nurse that works in the hospital setting!
However, there is tons of info in this course that could benefit you in any birth setting. You may just have to skip over some areas that pertain to hospital births.
Should I take this course even if I am having a c-section?
Absolutely! There is a lot of information on cesarean births, postpartum and more within the course.
What is 'lifetime access' to the course mean?
It means that as long as the course is active, you can take it as many times as you'd like! Whether you want to refresh your memory throughout your pregnancy and labor or if you want to take it again in a future pregnancy. The choice is yours!
Will this course help my partner, too?
Absolutely! It's meant to be taken by you and whoever will be supporting you during your birth.
Does this course teach breastfeeding?
This course talks briefly about breastfeeding but it is not a focus of the course. At this time, I do not offer a breastfeeding course but check back in the future!
I want to gift this course to someone I know that is pregnant - how do I do that?
What a beautiful gift! Simply enroll in the course and then send me an email: [email protected] I'll get you all squared away!
I really want to take this course, but I cannot afford it. What should I do?
When I created this course, I wanted to make it affordable and accessible to anyone who needed it. There is a great benefit to taking a birth course and I want to reach as many people as I can.
The cost of running this website, my time, and use of the course platform, scheduler, etc. does come with a cost. This is why I cannot offer the course at a lower cost to everyone, so I hope that those who do not need the reduced cost do not take advantage of my kindness.
There is a free 5 day email course you can take by clicking here. With this course, you enter your email and then you will receive a daily email for 5 days with some basic information. The email course is not as in-depth as the online course.
In an effort to reach lower-income communities, I do offer free/low-cost plans to those in need. Please send me an email explaining your situation to [email protected] I'd love to work something out with you.
If you would like to donate a course to someone in need, please use the email above to get in touch - thank you!

Check your inbox to confirm your subscription